South Korean President Moon Jae-in has received North Korean leader Kim Jong-un's influential sister, Kim Yo-jong, for a landmark meeting at the presidential palace in Seoul.
Mr Moon exchanged pleasantries with Ms Kim and North Korea's ceremonial head of state Kim Yong-nam on Saturday.
It is the most senior delegation from the north to visit the south since the Korean War in the 1950s.
The meeting comes after the US warned against engagement with Pyongyang.
The Trump administration is cautious of Seoul falling for North Korea's charm offensive during the Winter Olympics, which are taking place amid tension over Pyongyang's nuclear programme.
Mr Moon reportedly ate kimchi and drank soju liquor with Kim Yong-nam, a high-level Northern official, amid speculation that Pyongyang could invite the South Korean president to visit for a summit later this year.
Earlier, US Vice-President Mike Pence briefly encountered Kim Yong-nam at the Games but the two tried to avoid directly facing each other, Yonhap news agency reports.
At the opening ceremony for the Games, Mr Pence, Kim Yo-jong and Kim Yong-nam were seated in close proximity to each other.
Who is Kim Yo-jong?
The highest profile member of the North Korean delegation to the Games, she is the first immediate member of the North's ruling family to visit the South since the 1950-1953 Korean war.
Ms Kim, who is said to be very close to her brother, was promoted to the North's powerful politburo last year.
She is on a US sanctions list over alleged links to human rights abuses in North Korea.
Ms Kim is thought to be about 30 years old, around four years younger than her brother.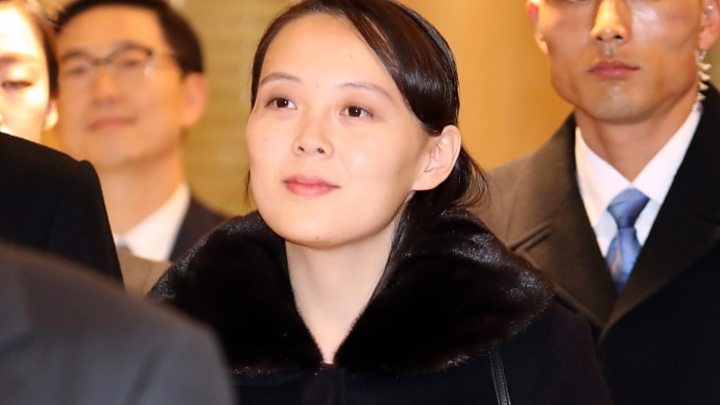 Winter Olympics 2018: North and South Korea hold landmark meeting