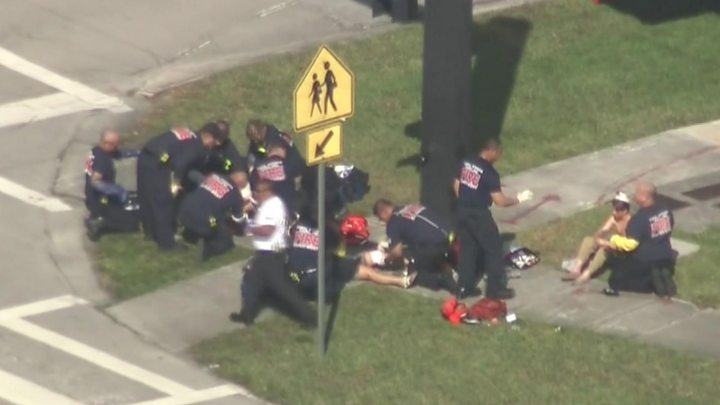 At least 17 people have been killed in a mass shooting at a high school in Parkland, Florida, police say.
The suspect has been named as Nikolaus Cruz, 19, and is a former student at the school who had been expelled.
Cruz, who was armed with "multiple magazines", began the shooting spree outside the school before opening fire inside, according to officials.
It is one of the deadliest school shootings since 20 children were killed at a Connecticut school in 2012.
Broward County Sheriff Scott Israel told reporters that Cruz had used a rifle and opened fire outside the school where three people were killed. He then entered the building and killed 12 people.
Two people later died after being taken to hospital.
"It's catastrophic. There really are no words," Sheriff Israel tweeted later.
Dr Evan Boyar of Broward Health told reporters late on Wednesday that 17 people had been taken to area hospitals.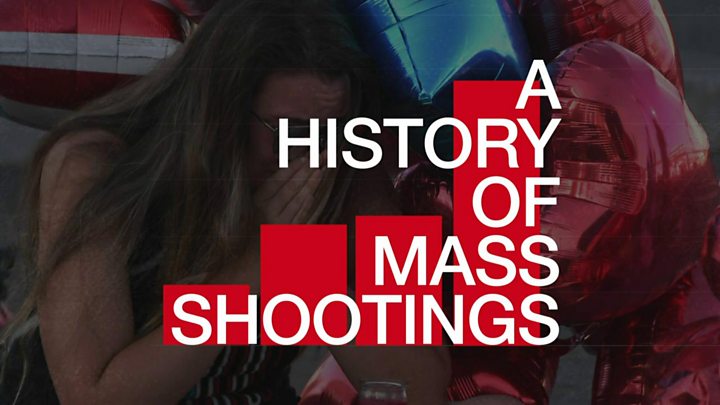 He added Cruz was among those treated and was released into police custody. Three people remained in a critical condition and three others were in stable condition, he said.
How it unfolded
Earlier on Wednesday, the local public school district tweeted that "students and staff heard what sounded like gunfire" shortly before dismissal at the Marjory Stoneman Douglas High School.
Police and SWAT team members began clearing students from the high school in Parkland, about an hour north of Miami, as parents and ambulances gathered outside.
Cruz was taken into custody without incident about an hour after he left the high school, according to police.
Several witnesses inside the building at the time told news outlets that the fire alarm had been set off as the shooting began.
Students told US media they hid under desks, in closets or barricaded doors as loud shots rang out.
Eyewitness accounts
One student evacuated from the school told CBS that Miami students had thought it was a drill.
"We already had one earlier this morning… and then we heard gunshots; some students thought it was not that serious."
Another student, Bailey Vosberg, said: "I heard what sounded like fireworks and I looked at my friend and he asked me if I heard that."
"Immediately, I knew. I didn't say anything to him, I just hopped over the fence and I went straight to the road that our school is located on – and as I got there there was just Swat cars and police units, police vehicles just flying by, helicopters over the top of us."
A teacher told WSVN that she hid in a closet with 19 students for 40 minutes – and that the school had undergone training for such a situation six weeks ago.
Reaction to the shooting
Florida Senator Marco Rubio tweeted that the shooting was "designed & executed to maximize loss of life".
President Donald Trump earlier tweeted condolences "to the families of the victims".
Congressman Ted Deutch, the district's representative, tweeted: "I'm sick about this news from home. Just spoke with the sheriff. This is devastating."
He said it was an "incredible school in my district – great teachers and staff, involved parents and amazing kids. Spoke with the kids there just a few weeks back."
How does it compare with previous school shootings?
Wednesday's attack is at least the 18th shooting in the US this year on or around school premises, according to research by Everytown for Gun Safety.
It is the sixth school shooting incident in 2018 that has either wounded or killed students, according to the advocacy website.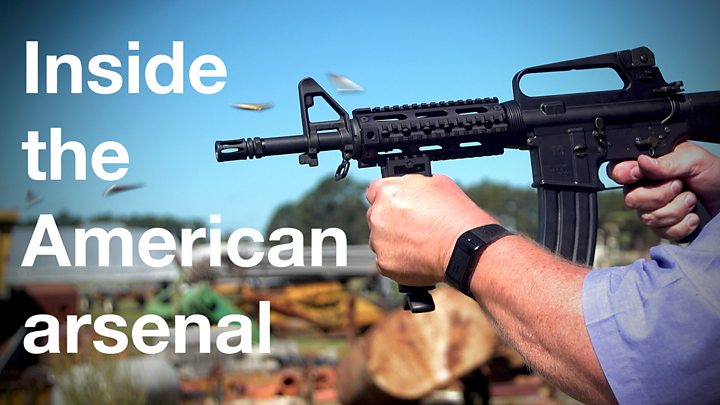 Since 2013, there have been 291 reported school shootings in America, which averages out to about one per week.
It is thought to be one of the worst shootings since 2012, when gunman Adam Lanza attacked Sandy Hook Elementary School in Newtown, Connecticut.
He shot dead 20 young children and six adults before killing himself.
---
Are you in the area? Do you have a story to share? Email: haveyoursay@bbc.co.uk.
You can also contact us in the following ways:
Florida shooting: At least 17 dead in high school attack